This guide is going to help you choose the right hockey stick for your needs, no matter what they might be. While there are hundreds of different sticks out there for players to choose from, my choice for the best hockey stick is the CCM JetSpeed FT3 Pro.
Playing hockey as a youth player, there are few things more exciting than getting a new stick. Showing your friends and testing it out brings a lot of joy. Even as you get older, there is nothing quite like a fresh new stick to help you pass, shoot and deke with precision, speed and power.
The CCM JetSpeed FT3 Pro is a solid stick that offers just about everything an elite player needs. It offers great versatility on the ice, features a lightweight, yet durable, design and offers up an amazing puck feel and sublime control. It is a very comfortable stick to hold, as well.
However, if you have specialized needs, there are a variety of different sticks out there to choose from. Some are perfect for those on a budget or who prefer a wooden stick, while others are enjoyed by those who may value more speed over more power (and vice versa).
Keep reading this guide to learn more about some high-quality hockey sticks that are sure to improve your performance from puck drop to the final whistle.
Top Hockey Sticks
Here are a few of the premier sticks on the market, along with some information about what makes each one a good choice to consider.
1. CCM JetSpeed FT3 Pro
Best for: A good overall stick with great versatility.
Material: Nanolite caron layering system.
Kick Point: Mid
Flex: 70, 75 or 85
If you want a good-performing, comfortable and versatile stick, consider this one from CCM. It has a very fast and responsive release, and the construction of the stick provides outstanding control and feel of the puck.
The shaft of the stick is comfortable to use and hold, while also being quite flexible. The hybrid kick model of the stick allows it to excel for both forwards and defensemen alike. The Nanolite carbon layering system offers incredibly high performance, without a ton of weight or bulk.
A drawback of this stick is that its durability might be a little less than other sticks. Despite this, if you treat it well and it doesn't break on you, it is certainly among the best-performing sticks that money can buy.
==> You can also get it on HockeyMonkey.com (USA) or HockeyWorld.com.
2. STX Surgeon RX3.2
Best for: Players who want an affordable and budget-friendly stick.
Material: Composite and carbon fiber.
Kick Point: Versatile dual kick point.
Flex: Many different options for flex.
If you're a player on a budget, but still want a solid stick, this is a good option to consider. This stick features a versatile dual kick point, which can help you score and pass with precision from anywhere. The stick is made of a durable and strong blend of composite and carbon fiber.
The ergonomic shape of the shaft helps to give you more control of the pack when deking or shooting. It is one-piece construction, which also helps for a uniform and consistent feel throughout the stick.
A negative of this stick is that it simply lacks many of the advanced and elite-level features that other sticks might include. However, for the price, this is to be expected and it is still a great value option for many players.
3. Warrior Alpha DX Pro Grip Junior
Best for: Youth players.
Material: Minimus Carbon 1000 for solid strength without a lot of weight.
Kick Point: Mid
Flex: 40 or 50
This is a favorite for youth players across the country. The stick is light, yet strong, thanks to the Minimus Carbon 1000 material used throughout it. The internal Fuelcore technology helps add an extra pop, and the stick offers a ton both in terms of grip and ergonomics.
This Fuelcore technology also aids in the reduction of materials breaking down, which can help take durability to new heights. The mid-kick point offers players a relatively stable release, and the stick as a whole feels very balanced.
The flex is also much lower in this stick than Senior sticks, ensuring your child can still generate enough energy to accurately pass and shoot the puck. It offers all of the elite-level features you expect, in a smaller package for those youth players looking to improve their game.
While the versatility of this junior stick for some will be a benefit, it could also be a drawback. The stick does everything decently well but doesn't excel in one area, which can be tough for children who normally have a specific playstyle.
==> You can also get it on HockeyMonkey.com (USA).
4. Sher-Wood 5030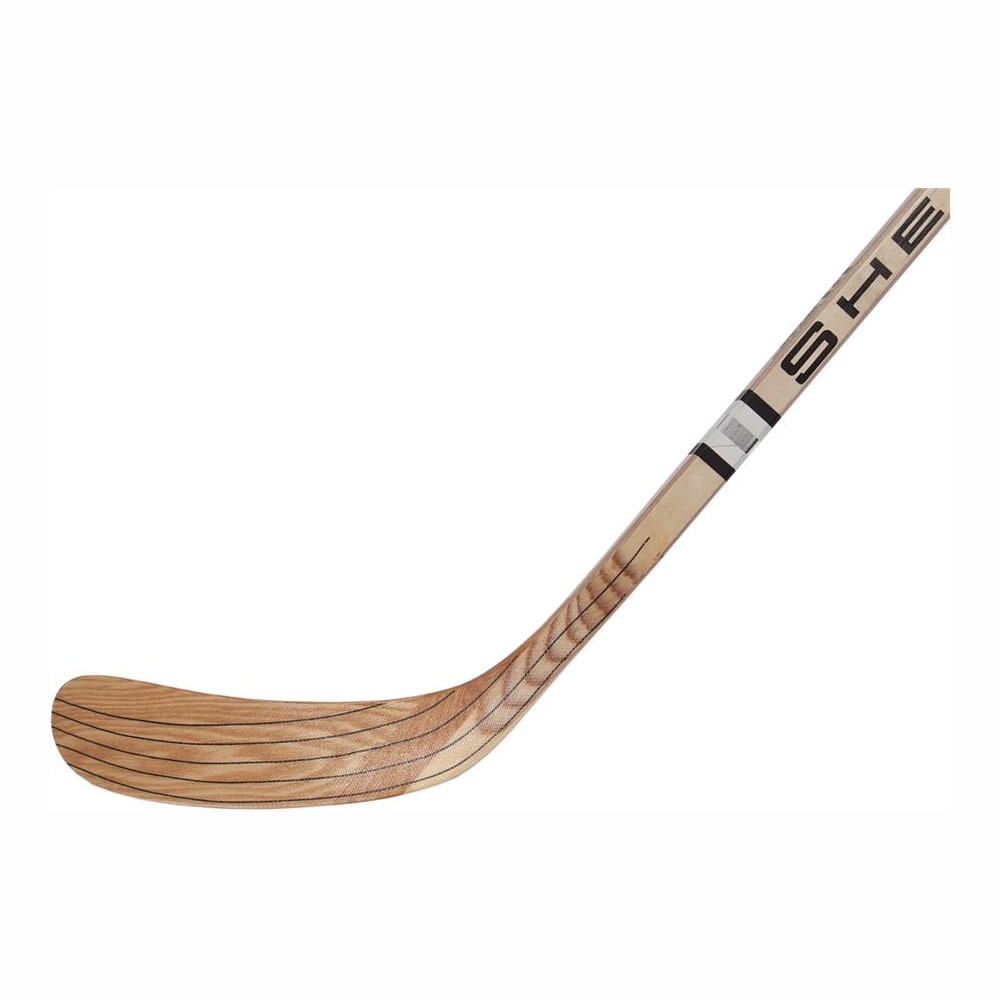 Best for: Players who prefer a wooden stick.
Material: Laminated wood with fiberglass.
Kick Point: Low
Flex: 85
Today, most hockey sticks on the market are composite. While there are some practical reasons for this, many still prefer the feel, sound, and even the nostalgia that a wooden stick can bring. This option from Sher-Wood is certainly a great choice for these individuals.
The feel of the stick is incredible, and it can help generate a lot of both power and speed for your shots and passes. This stick is also much more affordable than many other options, and you can pick up many for the price of one composite stick, in general.
This stick is quite reliable, and is very comfortable to use due to the smooth and finished wood that is used.
While many people love wooden sticks, they are often more prone to damage than other sticks. They can regularly split and chip, which could lower the stick's functionality and potentially lead to injuries.
==> You can also get it on HockeyMonkey.com (USA), HockeyMonkey.ca (Canada), or HockeyWorld.com.
5. Bauer Nexus ADV
Best for: Hockey players who want a lighter stick.
Material: Incredibly light advanced carbon layering.
Kick Point: Mid
Flex: 87
When playing hockey, it is quite beneficial to have a light stick. It stops you from sore and tired arms and allows you to play and move with more speed and agility. Fastest shots, quicker passes, and much-improved stickhandling as a few of the benefits of a lightweight stick.
This stick from Bauer weighs in at only 365 grams, it is the lightest Nexus stick ever. The reason it is so light is because of the Advanced Carbon Layering that uses stronger, but thinner, carbon layers that keep the stick strong and durable, without much weight needing to be added.
In addition to being light, this stick also offers a boatload of other features and technologies. This includes the Sling Blade technology for better shooting, the ER Spine for great energy transfer, and many others that make this such a good option for a variety of players.
Perhaps the biggest downside of this stick is the cost. While it is a great option, it might simply be priced too high for some players to consider it. This is especially true if you have to purchase a bunch of other gear at the same time.
==> You can also get it on HockeyMonkey.com (USA) or HockeyWorld.com.
6. CCM Super Tacks AS3 Pro
Best for: Players who value power over speed.
Material: Nanolite carbon layering.
Kick Point: High
Flex: 70, 75, 85 and 95
If you are a defenseman or a player who prefers a hard slap shot over a fast wrist shot, this high-kick point stick could be right for you. The stability and power it offers are unmatched, and it does so while being among the lightest mid or high-kick point options on the market.
The Nanolite carbon layering helps the stick be incredibly strong, and perform incredibly well on the ice. The accuracy offered by the stick is also high-quality, so your shots will always find their target in addition to being very strong and powerful.
Even the shape of the stick and the blade have been optimized to maximize the power you can get from your shots. Both the blade and the grip also help to maintain control and allow for maximum energy transfer.
A minor gripe some people may have with this stick is that it might not be as durable as some other options on the market. Also, while it allows for a lot of shot power, if you are a player who values quick shots and passes, you might find it harder to use.
==> You can also get it on HockeyMonkey.com (USA) or HockeyMonkey.ca (Canada).
7. Bauer Vapor FlyLite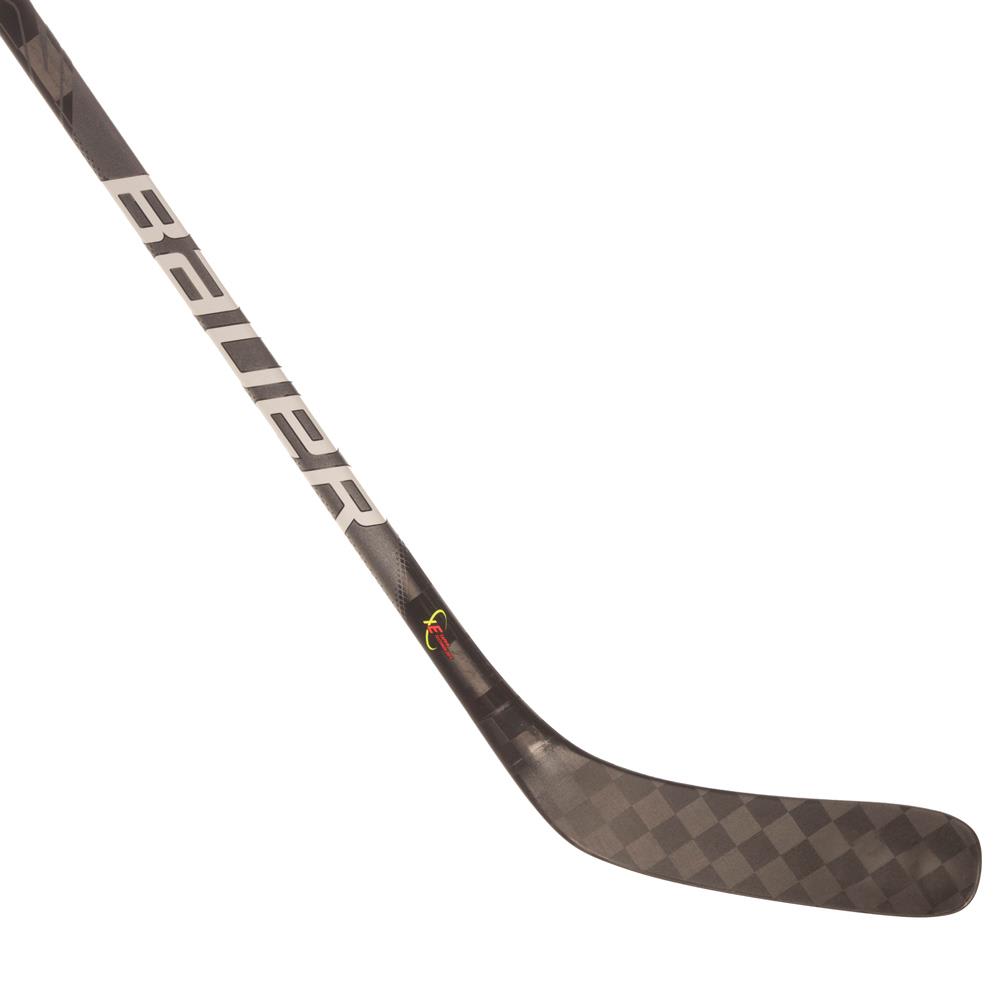 Best for: Players who value speed overpower.
Material: Asymmetrical TeXtreme shaft technology and carbon layering.
Kick Point: Low
Flex: 70, 77, 87 and 102
On the other hand, if you value quick passes and the ability to launch a quick wrister, this stick might be more up your alley. The low-kick point gives you all the speed and control you want, and the XE taper technology ensures the stick stays stable throughout your game.
The Asymmetrical TeXtreme shaft technology and carbon layering help to create a very high-performing stick, and one that is ultra-responsive. The Aero-Sense 2 blade core provides a thicker blade for better strength, without hurting the performance and overall speed of the stick.
The stick is very light and thin, as well. While this is awesome for weight reduction and release speed, it may hurt how strong the stick is and how well it may hold up to wear. Be sure to always be careful with the stick, to get as long a life as possible from it.
==> You can also get BAUER Vapor Flylite USA Flag Grip Stick on HockeyWorld.com.
8. TRUE AX9
Best for: Hockey players who want a durable stick.
Material: Carbon fiber and an advanced resin system called FiberShield.
Kick Point: Low
Flex: 75, 85 and 95
Hockey is a physical game and the equipment you use goes through a lot of wear and tear. This is especially true for the stick. Over time, all sticks will begin to deteriorate and break. But if you want one that should last longer than most, consider the TRUE AX9.
A big reason for its great durability is the FiberShield advanced resin system. This allows for nanoparticles throughout the stick that are equally distributed to balance the stiffness and weight of the stick, making it much stronger than other options.
The blade construction has also been fine-tuned and engineered to be stronger, lighter, and much more durable over time. The SmartPly technology also angles the fibers in a unique way to improve impact strength and longevity.
Durability is certainly one of the main selling points of this stick, but there are several other benefits to be aware of, too. This includes Axenic tech for a one-piece build, as well as great low-kick energy transfer and the ability to remain quite fast, despite the strength and durability.
While the stick has great features for durability, it is a little heavier than some other options on the market. It's certainly not overly heavy, but many of the other sticks on this list will be lighter, and in some cases, this can be noticeable.
==> You can also get it on HockeyMonkey.com (USA), HockeyMonkey.ca (Canada), or HockeyWorld.com.
Best Hockey Sticks: What to Look For
If you are on the search for the perfect hockey stick, here are some things you should look out for and consider.
Size
As with any piece of hockey gear, getting the right size is very important. Sticks come in multiple different sizes, and there are specific ones for senior, youth, and junior players. If you get a stick that is too long, it may hurt your ability to skate comfortably, as well as shoot and pass the puck.
A stick that is too short is often easier to use than one that is too long, but it will generally force you to lean forward too much during play and could limit the amount of power you can put behind your shots. Take time to find the right size, and your play will certainly improve.
Flex
The flex of your stick is another important aspect to consider. The flex of a stick is how much it will bend when pressure is applied. Some will remain quite stiff even after a lot of pressure, while others will have a lot of giving. Each stick has a flex rating that shows how flexible it is.
The flex rating is essentially how many pounds of force it takes to flex it one inch. So a higher flex rating means a stiffer stick. The amount of flex is often a personal preference and depends on what you are comfortable with.
Kick Point
Often underrated, the kick point needs to be thought about when deciding which stick to go with, as well. The kick point is the spot on the stick that creates the force to shoot or pass the puck and is generally where the stick flexes. The kick point can be high, mid, or low.
A higher kick point is generally better for defensemen or players who take clappers from further away, while a lower kick point is better for those who take quick wrist shots or pride themselves on quick passes. If you want a versatile stick, a mid-kick point is a good call.
FAQs
Here are a couple of answers to some of the most commonly asked questions about hockey sticks.
How to size a hockey stick?
With the blade on the ground and the knob of the stick in the air, your stick should stand up to around your chin. It can be a couple of inches below or above, but any more than that and you are probably using the wrong size for most people of your size.
When to replace a hockey stick?
If your stick has begun to feel weak during passes or shots or isn't as stiff as it once was, it might be time for a replacement. Also, if you notice the stick has worn out or has any breaks or chips in it, it is time to replace it.
Why do players put tape on their hockey sticks?
The main reason that players put tape on the blade of their stick is to protect the blade, as well as providing a better puck feel and control. This helps with stick handling, passing, and receiving the puck. The tape on the knob of the stick is generally for better grip in the hands.
My Verdict
My selection for the best hockey stick is the CCM JetSpeed FT3 Pro. It is a wonderfully versatile stick, full of many features and inclusions for elite-level players. If you want to get the most out of your stick, it is certainly one to consider.
About Kale