This guide is going to take a closer look at some of the best hockey pants available. Hockey pants are an important tool to keep you both safe and comfortable throughout the game. While there are many solid options, my choice for the best are the Bauer Supreme 2S Pro Ice Hockey Pants.
Way back when I caught my first slap shot in the thigh playing street hockey, I instantly realized the importance of hockey pants. They protect some of your most sensitive areas like your groin, your hips, your thighs, and even your lower spine.
The Bauer Supreme 2S Pro are a great pair of pants not only for their comfort and protection but also for their lightweight feel. They provide a natural fit to help you play your best while ensuring you stay safe and are protected if you fall.
These pants are surely a high-quality option for most people, but they aren't the only ones. There are other options perfect for those who may be on a budget, younger players, and those who value protection over everything else.
Read on to learn a little more about the different high-quality hockey pants on the market, and how they can help keep you safe from puck drop to the final whistle.
Top Hockey Pants
Here are some of the best options, and a little more information about what makes each one great.
1. Bauer Supreme 2S Pro Ice Hockey Pants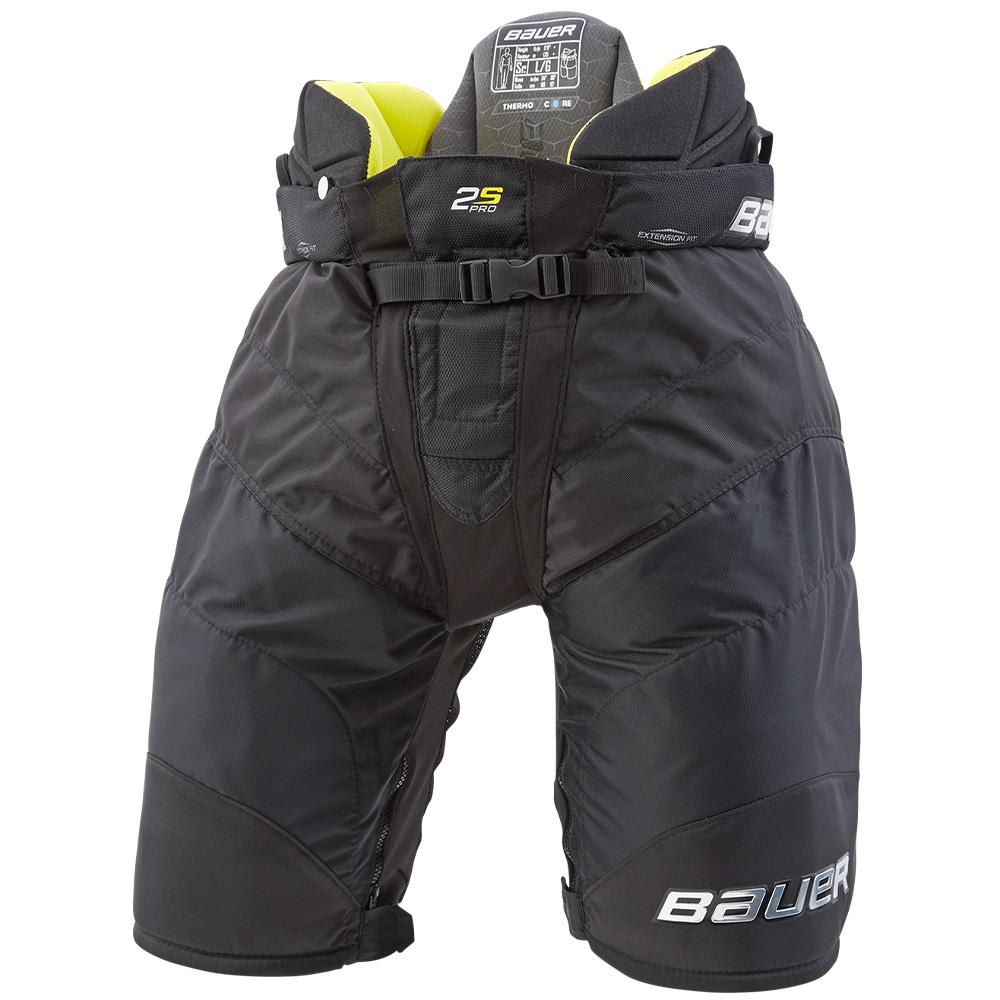 Best for: A good overall pair of hockey pants.
Mobility: Versatile with a lightweight nylon shell.
Protection: Curv composite, HD foam and protection for everywhere that matters.
Comfort: Moisture-wicking Thermo Core liner and other comfort features.
These are a versatile and overall high-quality pair of pants to consider. They provide incredible performance for elite players and come in many different sizes. The protection they offer is solid thanks to the HD foam in key areas and the Curv composite.
The construction of the pants allows them to move well with your body, in order to help you skate at your full potential, while still being protected. The pants are lightweight, stretchable, and very versatile for all different kinds of players.
The liner used within the pants not only adds a lot of comfort but also helps to wick sweat and moisture away from the body. Whether you fall down, get hit, or hit the boards, these bands have the features in place to keep you at 100%.
These hockey pants will work for many players, but there is a potential drawback. While they are high-quality, their durability can be a little questionable if they're not handled, stored, and transported carefully.
==> You can also get it on HockeyMonkey.com (USA), HockeyMonkey.ca (Canada) or HockeyWorld.com.
2. STX Surgeon RX3.1 Ice Hockey Pants
Best for: Hockey players who want to save money.
Mobility: Precision fit and stretch panels for great maneuverability.
Protection: Spine pad and traditional tailbone design, along with solid hip protection.
Comfort: Foam pads and an anatomical fit.
If you want a pair of hockey pants without having to pay a high price, these are worth a look. One of the best things about these pants is that they offer a precision anatomical fit. This ensures you can remain mobile on the ice, and the stretch panels won't hold you back.
The pants contain a zipper to change up the length, to make sure the sizing is perfect. The lacing system and slide lock also help with the fit. As far as protection, the pants offer great tailbone protection, features an HD foam pad and good protection for the hips and kidneys.
While these are a solid budget option, these hockey pants are a little weak on the features that many other pants will come with. The materials used aren't bad, but certainly not as good as some others on the market, as well.
3. Warrior Covert QRE Pro Junior Hockey Pants
Best for: Youth hockey players.
Mobility: Fit style that follows the natural skating position.
Protection: The outer shell is durable and all hip, waist and thigh protection is correctly placed.
Comfort: A liner to keep you dry, as well as a floating internal belt for a comfy fit.
These are among the best choices for a youth player. They are designed well in terms of fit and style and even come with an adjustable leg extension for players who are growing. The protection offered throughout all areas of importance is superb and will keep players safe.
The floating belt ensures all protection is in the right place and also the fit of the pants is comfortable. The outer shell of the pants is not only durable but stays relatively lightweight. Inside their pants is also a high-quality liner.
This liner not only provides comfort to the player but also a variety of other benefits. It will keep you cool, ensure you stay dry, and can wick odor away to keep you and your gear from stinking too much.
However, one drawback of this product is that they are a little bulky for some youth players. While this is great for keeping them safe, it may be a little more difficult for them to play their best compared to a lower-profile and tighter pair of hockey pants.
==> You can also get it on HockeyMonkey.com (USA), HockeyMonkey.ca (Canada) or HockeyWorld.com.
4. CCM Super Tacks AS1 Ice Hockey Pants
Best for: Players who want the best protection possible.
Mobility: D30 smart material and an adjustable fit.
Protection: Reinforced side panels, molded caps in key areas to disperse impact.
Comfort: Great adjustability and keeps you light, without sacrificing protection.
If you want a pair of hockey pants to provide you with the optimal level of protection, these are a great choice. The pants are designed to disperse impact and absorb shock to reduce the chance of pain or injuries occurring.
There is a floating spine protector, reinforced side panels and molded caps that have been added in the most important areas for even more protection. These caps move with you and ensure you are always protected, no matter what position you find yourself in on the ice.
But these pants do more than just offer great protection. The D30 smart material and adjustable fit ensure that your mobility and agility on the ice don't suffer. This smart material is soft and flexible, but still ensures you are protected.
The adjustability offered throughout the pants allows you to get the perfect fit and make sure the pants are as comfortable as possible. The material, and all aspects of the pants, also remain quite light which is great for skill players who rely on their speed.
A downside of these hockey pants is that they are quite expensive. This isn't always a bad thing if you have the budget, but hockey is an expensive sport. If you are tight on funds, you may want to consider something a little more affordable.
==> You can also get it on HockeyMonkey.com (USA), HockeyMonkey.ca (Canada) or HockeyWorld.com.
Best Hockey Pants: What to Look for
If you are looking for the best hockey pants, here are a few things to consider before deciding which to buy.
Protection
The protection offered by your hockey pants is one of the primary areas of importance. They need to adequately cover and protect your tailbone and lower spine, your hips and kidneys, as well as your thighs and quads.
The padding should be relatively comfortable on your skin, but be strong enough to stand up to falls, sticks, and pucks. Ensure that the materials used are high-quality and that they are durable, and won't lose their effectiveness after only a couple of games.
Comfort
If the pants protect you but aren't comfortable, they can be a nightmare to wear. As a result, be sure to choose an option with comfort materials included, and that it is designed well. Being uncomfortable on the ice is one of the easiest ways to be off your game, so be careful.
If hockey pants are too abrasive or are designed in a way that is unnatural, trying to play your best in them can be impossible. Hockey is a hard enough game on your body, the last thing you want is your own equipment making you uncomfortable on the ice.
Fit and Size
Of course, you also need to consider the fit and size of the pants. If the sizing is off, not only will the pants not be comfortable, but they won't protect the important areas as well as they should. Thankfully, these pants come in many sizes so you should be able to find one that fits.
In addition to size, there are also different potential fits to think about. Some are wider to provide as much bulk and protection as possible, while others are more slim and anatomical in nature, which can provide better mobility. Choose the one that best fits your play style or position.
FAQs
Here are a couple of the most commonly asked questions about hockey pants, along with my answers.
How should hockey pants fit?
Hockey pants should fit snugly around the waist, to ensure they stay up during play. The pants should reach to about the middle of your kneecap. Any longer and they will hurt performance and any shorter, and they won't be as protective as they should be.
What is the difference between hockey pants and a girdle?
While many players go with hockey pants, another option is a girdle. These are tighter almost compression-like shorts that generally need to be covered by a shell. They have some padding, but not nearly as much as hockey pants in most cases.
What to wear under hockey pants?
This depends on the player. Some will like to wear a thicker base layer, while others may opt for compression gear. Others may prefer a jock-strap as well. Whatever is comfortable and works for you, is what you should wear.
My Verdict
My choice for the best hockey pants are the Bauer Supreme 2S Pro Ice Hockey Pants. They are constructed for a light and comfortable fit, without sacrificing protection. The pants offer solid adjustability, keep you dry on the ice and feature added protection in key areas.
About Kale