This guide is for the hockey player on the search for a brand new helmet. Wearing a helmet protects your head and gives you peace of mind on the ice. While there are many high-quality options to consider, my choice for the best is the Bauer Re-Akt 200.
Even as a young skater, I was very quickly told to always wear a helmet when skating and playing hockey. Accidents happen, and a helmet is often all that is standing between you and a major head injury if you fall, trip, get your body checked, or even take a puck to the head.
The Re-Akt 200 from Bauer not only provides top shelf impact protection but also several comfort features to keep you feeling (and playing) your best. The included adjustment system makes achieving the perfect fit simple, to ensure you are always safe during gameplay.
While this might be my choice for the best option, it is far from the only one. Whether you are on a budget, want a comfortable helmet, or are searching for a helmet for your kid, you can be sure that there will be a helmet out there perfect for your needs.

Read on to learn a little more about some great hockey helmets that will keep you safe and comfortable all game long.
Top Hockey Helmets
Here are many of the best choices on the market, as well as helpful information about each one.
1. Bauer Re-Akt 200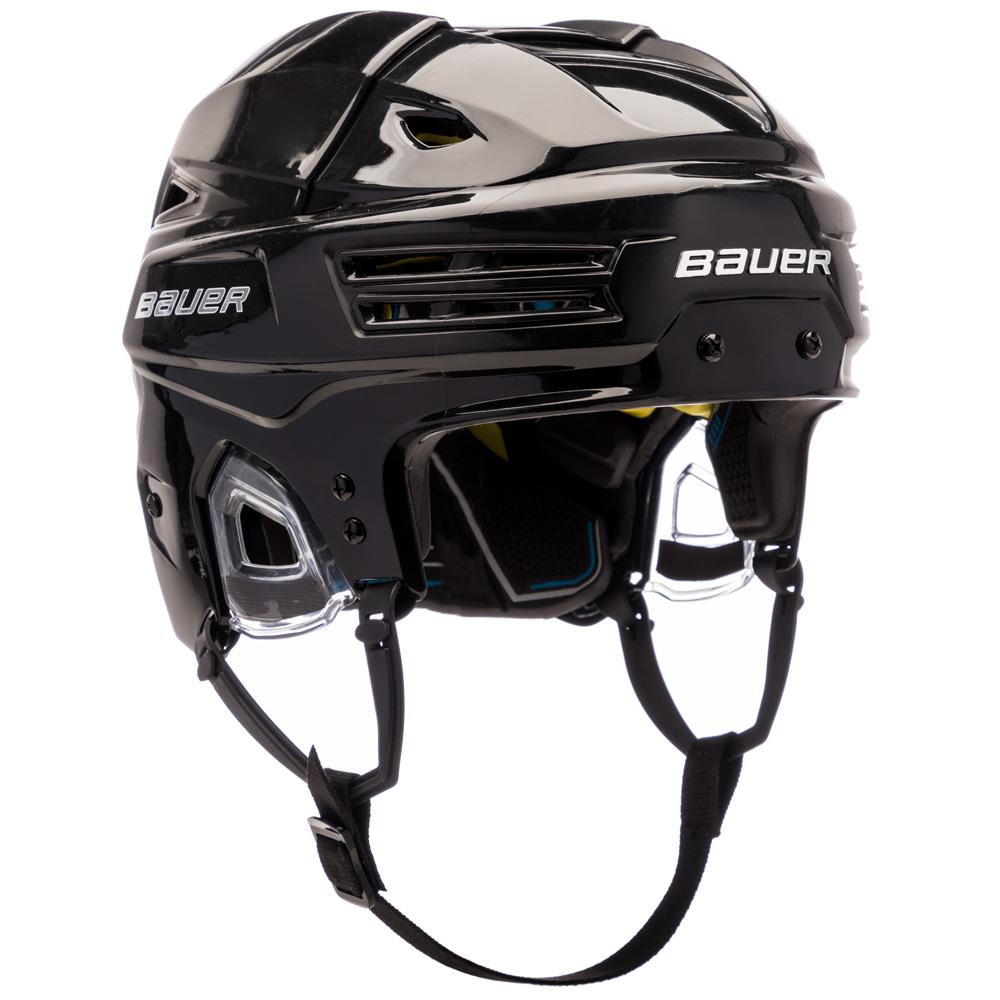 Best for: Players who want a great overall helmet.
Protection: Lightweight foam, gap protection and great impact resistance.
Comfort: Moisture channels direct sweat from eyes and includes vents for airflow.
Fit and Sizing: A custom occipital lock at the back of the head.
If you're looking for a great overall hockey helmet that does essentially everything well, this is a good choice. It is lined with lightweight foam to protect your head and also includes gap protection in areas where other helmets may leave you vulnerable.
The helmet manages to handle multiple types of impact well and remains lightweight despite all of the protective features. In addition to protection, the comfort offered within this helmet will also have you feeling great all game long.
The foam itself is soft on the skin, and the helmet comes complete with ventilation channels for great airflow and moisture management. If the sizes they come in aren't perfect for you, there is a custom lock at the back of the head to adjust the fit.
The helmet is very versatile and certainly a great option, but the high price could drive some people away. Also, it has a tendency to fit a little tight, which has the potential to bother some people.
==> You can also get it on HockeyMonkey.com (USA) or HockeyMonkey.ca (Canada).
2. Bauer IMS 5.0 Helmet Combo
Best for: Players on a budget who want a lower-priced option.
Protection: Multi-density foam, ear protection and a facemask.
Comfort: The foam liner provides adequate comfort.
Fit and Sizing: Features tool-free size adjustment.
If you don't have the biggest budget to spend on your gear, this helmet is one to consider picking up. It is a combo helmet that comes with a cage, to keep your face safe in addition to your head.
The helmet is certified by both the HECC and CSA, and features a multi-density foam liner within the helmet, as well as strategic ear protection, and is very simple to adjust without the need for tools if the fit isn't quite right.
Versatility is also a strong point for this helmet as it can be used for a variety of things other than hockey, such as lacrosse or even bull riding. While the helmet is cheap and does the job for a recreational player, it lacks the protective and comfort features that an elite player may need.
==> You can also get it on PureHockey.com, HockeyMonkey.com (USA) or HockeyWorld.com.
3. Warrior Alpha One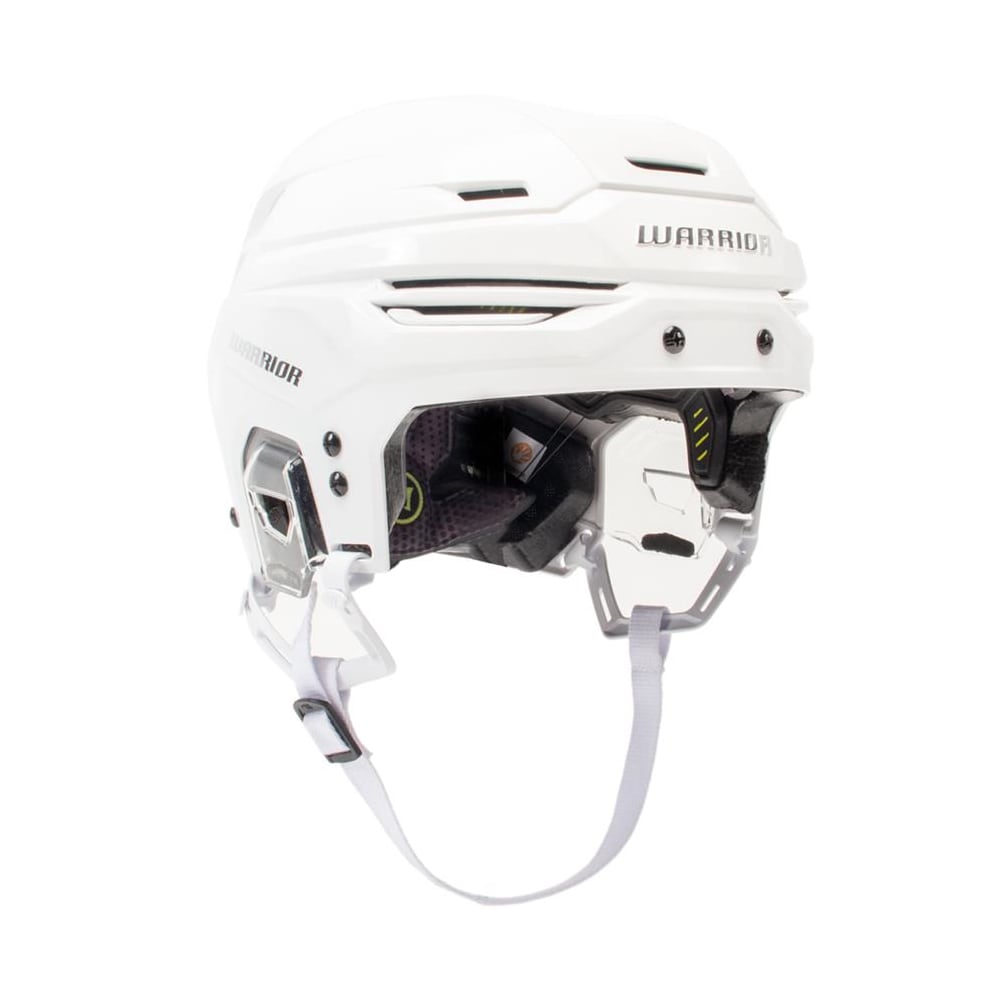 Best for: Players who value protection over everything.
Protection: Omnishock protection system as well as a foam shield for different impacts.
Comfort: Soft-touch foam and a liner to keep you cool.
Fit and Sizing: A dial that allows you to fine-tune the fit.
For the player that values protection solely over everything else, this is a helmet worth checking out. It features an OmniShock protection system, which has different foams and protective pods to ensure the helmet can adequately protect against different types of levels of impact.
There are even diffusion plates inside the helmet in different places that are most vulnerable to give them an extra bit of protection. In order to get the perfect fit, this helmet has a rear dial to let you loosen or tighten it when you need to.
Because the helmet is made specifically with protection in mind, it does sacrifice a bit in terms of comfort. It's not incredibly uncomfortable or anything, but you might expect more in the comfort department at this price point.
==> You can also get it on HockeyMonkey.com (USA), HockeyMonkey.ca (Canada) or HockeyWorld.com.
4. CCM FitLite 3DS Youth
Best for: Youth players looking for a solid helmet.
Protection: A cage to protect the face, as well as foam throughout the helmet.
Comfort: Multiple types of interior foam for comfort, not only protection.
Fit and Sizing: Adjustment system and straps make for easy sizing changes.
Perfect for the youth hockey player, this helmet will ensure they stay safe on the ice, where falls will be all but guaranteed. It offers a protective cage, and also includes soft-touch foam to protect your entire head from impact, including some D3O foam at the back of the head.
Some of the foam in the helmet is aimed at protection, but others are aimed at providing some comfort to the wearer.
There are also cage and helmet adjustments, to ensure the helmet can grow with a youth player. This gives parents a lot of control over the fit of the helmet, to make sure it always offers the best protection possible.
While the helmet is very protective, it is a bit bulky and large for some. Your child may not notice, but because of all the protective materials and inclusions, it is a little heavier than others you can find on the market.
==> You can also get it on HockeyMonkey.com (USA) or HockeyMonkey.ca (Canada).
5. CCM Tacks 910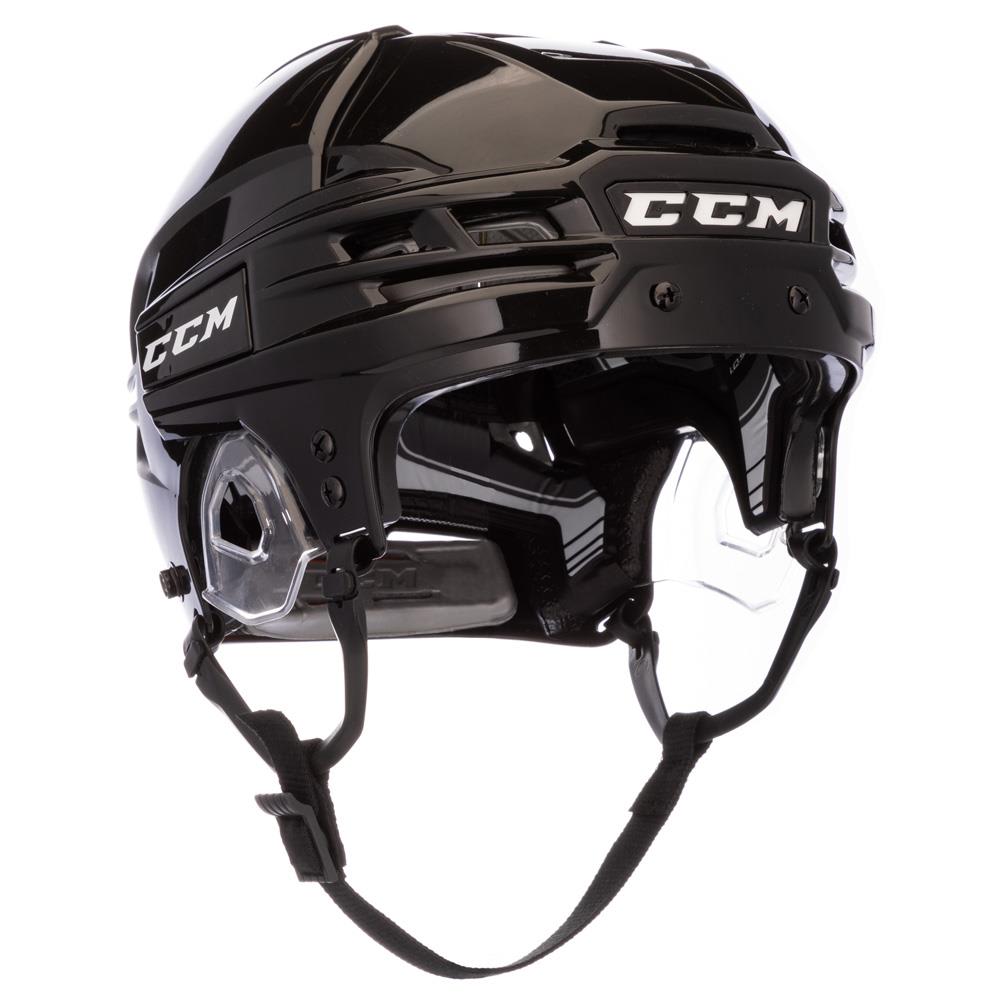 Best for: Players who want a helmet that offers optimal comfort.
Protection: Energy and impact protection, as well as Fluid Inside Pods in the liner.
Comfort: Memory foam in the liner, and a smooth contour edge for better comfort.
Fit and Sizing: Can be adjusted easily and quickly without tools.
If you value comfort the most, this offering from CCM is a good option to consider buying. It features memory foam throughout the liner, to ensure a perfect fit for optimal comfort on your head. The smooth contour edges and sweat management pad will also keep you comfortable.
Of course, the helmet still offers great protection. It protects against impact and energy well and also has a Fluid Inside Pod system to dissipate any harmful impacts. The pods are intelligently placed in the right place to keep you safe, and the outer shell of the helmet is stiff and strong.
Making necessary adjustments throughout the helmet is also easy. One issue is that while the forehead pad absorbs a lot of sweat and keeps it out of your face, this can't be properly removed to keep it clean, which could be a problem for some.
==> You can also get it on HockeyMonkey.com (USA), HockeyMonkey.ca (Canada) or HockeyWorld.com.
6. True Dynamic 9 Pro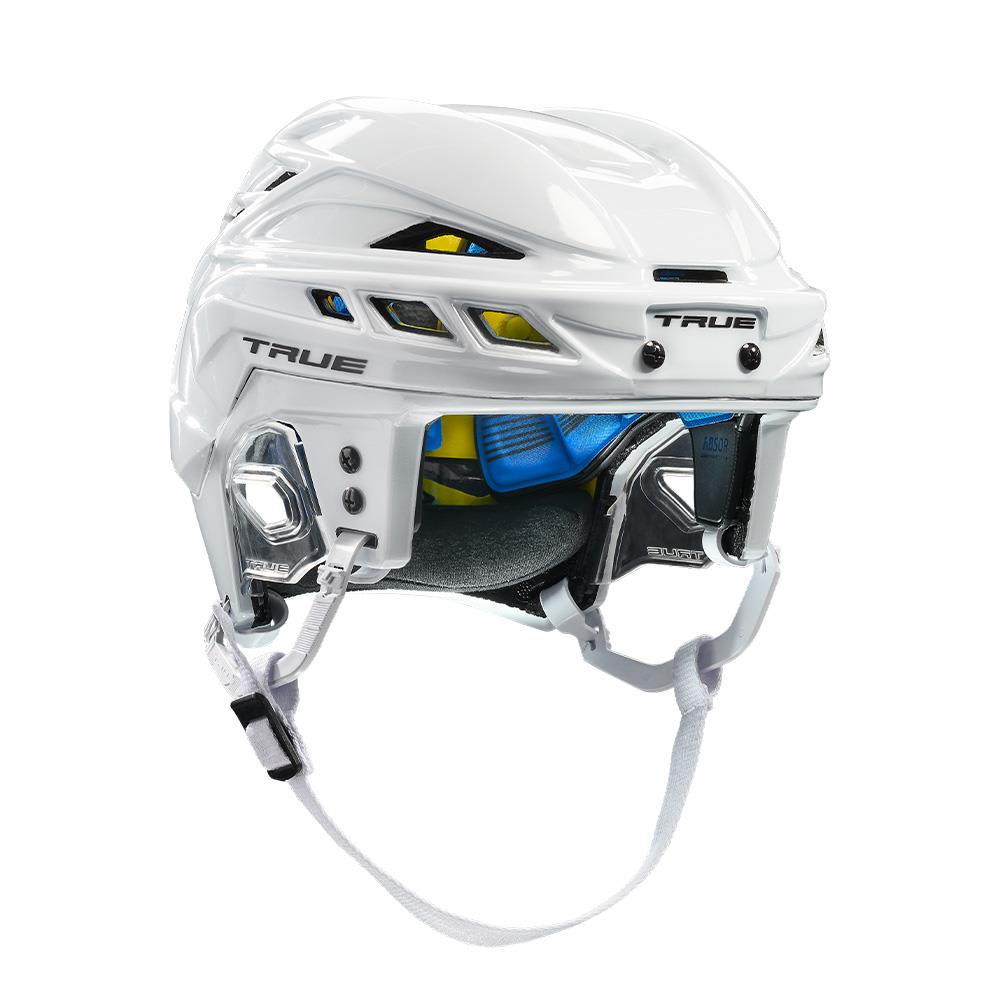 Best for: Players who like new and innovative features and design.
Protection: MIPS brain protection system, a strong shell and EPP foam throughout.
Comfort: The EPP foam is quite comfortable and the helmet is incredibly lightweight.
Fit and Sizing: The helmet can be 5% larger/smaller due to interchangeable pads.
If you are looking for an innovative and exciting helmet, the True Dynamic 9 Pro might be right for you. They use a patented MIPS brain protection system that reduces rotational motion transfer to keep both your skull and brain protected.
The helmet also remains incredibly lightweight and features interchangeable side and rear pads to change up the fit and size a little bit. The EPP foam allows for added comfort, while also providing a boost to the protection.
While the helmet is great, if you like to pair your helmet with a cage, you might want to go elsewhere. Many of the leading cages simply won't fit this helmet well. Some can be maneuvered to fit, but not to fit as best as they were intended.
==> You can also get it on HockeyMonkey.com (USA), HockeyMonkey.ca (Canada) or HockeyWorld.com.
Best Hockey Helmets: What to Look For
If you are looking for a brand new hockey helmet, these are some of the things you should consider and look for before making a purchase.
Protection
Your first consideration should always be the protection offered by the helmet. Its main goal is to keep you safe, so you need to make sure the features and materials are capable of doing that. It should have adequate impact protection for the back, sides, and front of your head.
This should be thanks to a strong outer shell, as well as foam inside the helmet. The construction of the helmet should be quality, and it should protect against various levels of impact that you might encounter on the ice during a game.
Fit and Sizing
While protection is great, it won't mean anything if the helmet doesn't fit. The right fit will keep the helmet in the proper position, and also ensure that it stays comfortable on the head.
Many helmets also come in different sizes, so always know what size you are before you start shopping. While some are adjustable, these are generally smaller micro-adjustments and may not be able to help a wrongly sized helmet fit perfectly.
Comfort and Materials
A hockey helmet should be comfortable, too. Constantly being distracted by sore ears or another problem brought upon by an uncomfortable helmet can hurt your ability to play your best. You want to make sure the helmet is comfortable enough to wear all game, without issue.
The materials used should be comfortable against the skin, in addition to being protective. It should be soft, potentially wick moisture away, and not be too heavy. While an uncomfortable helmet is infinitely better than no helmet, you might as well find one that feels good.
FAQs
Here are some of the most commonly asked questions about hockey helmets, as well as my answers to them.
How should a hockey helmet fit?
To provide optimal protection, a helmet should fit snugly all over your heat. If it is too loose, it won't protect your head well and if it is tight, it will be uncomfortable. In most cases, you should have about the width of one finger between the helmet and your eyebrows.
How long will a hockey helmet last?
This ultimately depends on how durable it is, its quality, and how it is used. Helmets that are taken care of and don't take a lot of damage can last for years. But if it gets hit a lot, and isn't stored or transported carefully, it could show signs of wear much quicker.
What is a hockey helmet made of?
While it varies, most hockey helmets feature an outer shell that is generally made of hard plastic or nylon, and an inner liner that often consists of foam for better comfort and protection. Each helmet may use different materials, so always do your research before deciding which to buy.
My Verdict
My selection for the best hockey helmet is the Bauer Re-Akt 200. It is a superb blend of comfort and protection, and includes many other features from adjustability to airflow. It is a solid choice for any elite player looking for a new helmet to use.
About Kale