This guide is going to take you through some of the best value hockey sticks on the market today. These are great for young, old, novice, and experienced players alike, who simply want a quality stick at a low price. After a lot of consideration, my top choice is the Warrior Alpha DX4.
Even as a child, when you first start playing hockey, you are instantly aware of the importance of a quality stick. It impacts everything from your dangles, to your snipes, to your passes. However, you don't need to pay an arm and a leg for a quality stick that can do the job.
The Alpha DX4 offers a great blend of power and speed, at a great price. The stick is very strong, while still remaining light and easy to play with. The great feel of the stick and grip also ensure you always stay in control during the game.
This stick is a great option for those looking to spend less without hurting quality, but there are other options as well. This includes options for brand new players at very low prices, wooden sticks for those who prefer them, and a variety of others worth considering.
Finding the right stick, at the right price, can not only help improve your game but can also keep your wallet happy. Keep reading to learn a little more about some of the best hockey sticks under $100.
Top Cheap Hockey Sticks Under $100
Here are my recommendations for the best cheap hockey sticks, along with a bit of information about each option.
1. Warrior Alpha DX4
Best for: A high-quality overall stick at a fair price.
Material: Minimus Carbon 400.
Kick Point: Mid
Flex: 75 or 85
This mid-point stick offers a ton of value and performance for a variety of players. The stick gives you a stable and powerful release that is also lightning fast. It is an accurate stick, and one that offers players an adequate level of grip and control, thanks to its Apex Grip.
The stick itself is also quite strong, due to the materials used. Despite this, the stick remains light and provides a good feel for any playstyle. It is just as comfortable battling in the corner, as it is skating through the neutral zone.
While the stick is great for players who play every once in a while, if you are beginning to take your game more seriously, the performance and durability of this stick will lag noticeably behind others that only cost a little bit more.
==> You can also get it on HockeyMonkey.com (USA) or HockeyWorld.com.
2. CCM JetSpeed 440
Best for: Beginners looking for an affordable stick.
Material: High-quality composite and JS3 blade.
Kick Point: Mid
Flex: 85
If you are a beginner looking to dip your toes into hockey, there are few better sticks to do it with. The stick provides great response, features a quality blade, and is very versatile thanks to the mid-kick point. This helps you make shots and passes from all over the ice.
The puck control is surprisingly good considering the rock-bottom price and is great for those still working on building up their stickhandling skills. The shaft of the stick is very comfortable and contoured to fit perfectly in the hands.
A negative of this stick is that it is a little heavier than some of the other sticks in the same category. This can make it tough to be precise with your movements and has the potential to slow down your gameplay at times.
==> You can also get it on Hockey World or Dick's Sporting Goods.
3. Sher-Wood 5030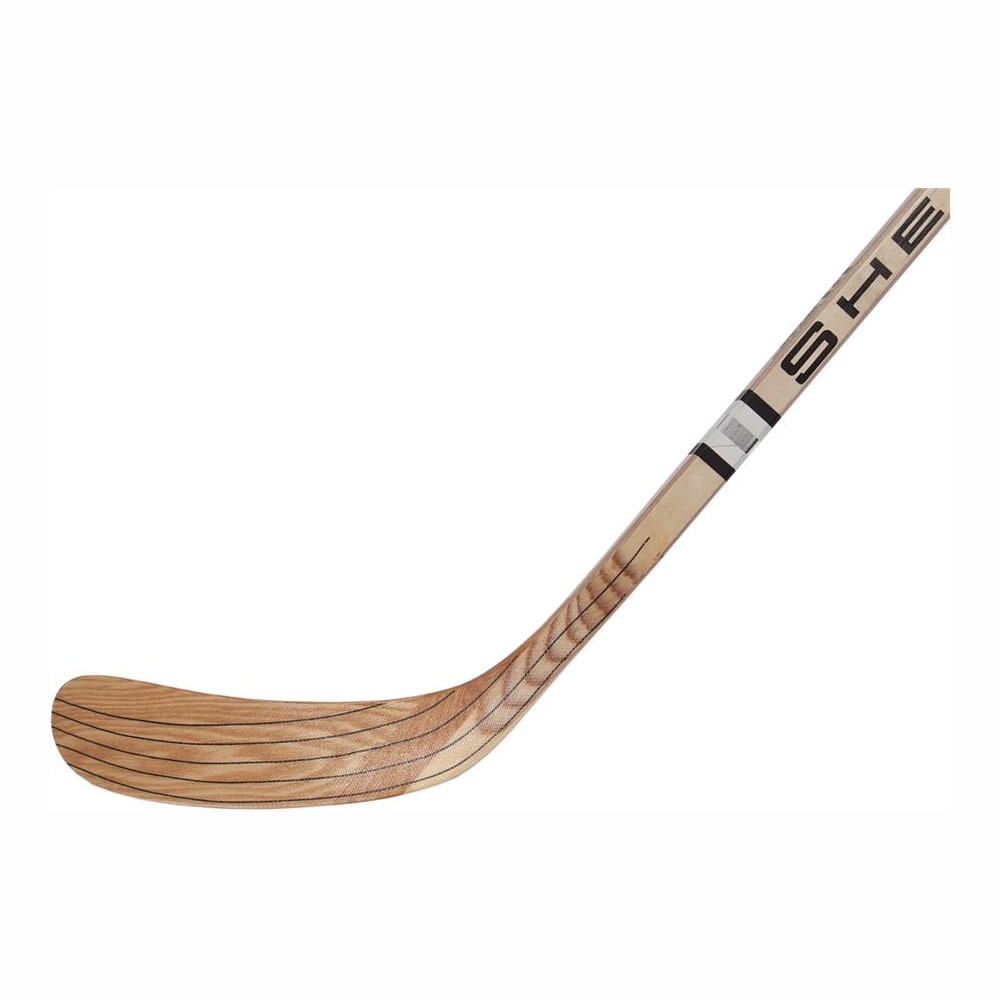 Best for: Players who want an affordable and high-quality wood stick.
Material: Wood with a white-ash blade and birch lamination.
Kick Point: Low
Flex: 85
While most players have moved onto using composite sticks in recent years, there are some who still prefer the feel and look of a wooden stick. It also doesn't hurt that wooden sticks are much more affordable in most cases.
The Sher-Wood 5030 is a very reliable and light stick that offers you great control and a low-kick point. Many players prefer how it feels to shoot, stickhandle and receive passes with a wooden stick, and these sticks can be incredibly comfortable to use.
A downside of this stick, that other wooden sticks have as well, is that it can be prone to chipping and splintering due to the wooden construction. If you are going to use a wooden stick, it's a good idea to tape it up well to ensure it can last as long as possible.
==> You can also get it on HockeyMonkey.com (USA), HockeyMonkey.ca (Canada), or HockeyWorld.com.
Best Cheap Hockey Sticks Under $100: What to Look For
If you are looking for a great stick that doesn't break the bank, here are a few things to keep in mind when deciding which stick to purchase.
Stick Length
The length of a hockey stick is crucial to think about before buying. Hockey sticks come in a few different sizes, which are: Senior, Intermediate, Junior, and Youth. If a stick goes up to your chin while you're wearing skates (give or take a few inches), it is the proper size for you.
However, some players may deviate from this rule. For example, a longer stick can be great for generating more power in shots or getting a better reach for disrupting stickhandling of opponents. On the other hand, a short stick is better for decking and maintaining control.
Flex/Kick Point
When buying a stick, it is also important to consider the flex. The flex of a stick dictates how much a stick will bend during use. There is no right or wrong amount of flex, it simply depends on player preference, as well as how large a player is.
The flex of a stick is generally shown as a number. The higher the number, the more stiff a stick will be. In a similar vein, where the stick actually flexes is also quite important to keep in mind. This is called the kick point.
A low-kick point is great for agile players who value a quick release over everything else. A high or mid-kick point is normally better for a defenseman or other player who values power over agility.
Curve
The curve of a stick is often overlooked by some, but this shouldn't be the case. Like with flex, there is no right or wrong curve for a player, it just depends on their position and their preferences. In general, there are three types of curve: toe, mid, and heel.
The amount of curve can also vary from stick to stick. Some will be relatively flat, while others will have a deeper curve. Sticks with a lot of curve are often preferred by players who like to get the puck off the ice. Those with flat curves generally keep shots and passes lower.
My Verdict
My pick for the best cheap hockey stick under $100 is the Warrior Alpha DX4. It has a variety of quality features, for a very fair price. From the great power and accuracy to the stick strength, to the incredible control, this stick has just about all you could want in a value hockey stick.
About Kale